Artistic and cultural programming of the Foundation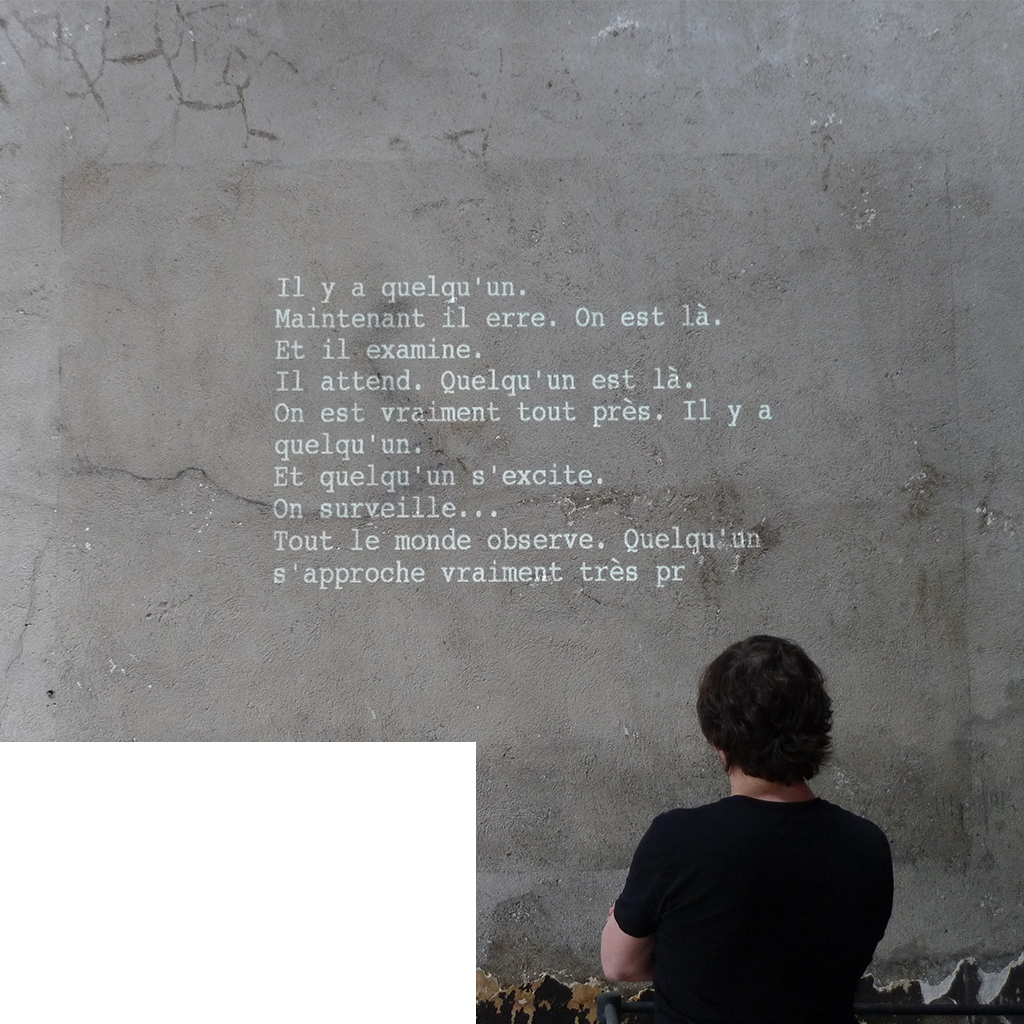 The Foundation is open to the public, with a programme of digital art exhibitions dedicated to innovation in the transmission of knowledge.
7 February – 30 June 2022
Language constructs reality(ies), especially in the age of machines.
Does the digital have an influence on language? Does it leave room for disruptions and irregularities, which characterize both a language and a personality?
Are languages bridges or limits between us and the world?
Cécile Babiole, Magali Desbazeille, and Antoine Schmitt are pioneers of digital art in France, and they symbolically inaugurate the foundation's first art exhibition.
These artists have been using digital tools in their artworks since the 1990s, and are themselves part of an already long history of technology-related art.
Critics, observers, and activists, each of them brings a singular and often ironic view of today's media in their own practices. Images, sound, interactivity… Each medium is explored, dissected, and questioned, usually with an ironic distance.
It was important for us to launch the Foundation's artistic programming with these three artists, who all belong to the same generation, yet each have their own relevant and irreverent reflection on the new media.
From Cécile Babiole's cyberfeminism to Magali Desbazeille's humorous and intelligent performances, and Antoine Schmitt's considerations on the essence of digital technology, this exhibition lays the foundations for a broader reflection on language.
Curator : Natacha Duviquet
2004
Interactive installation
Computer, specific programme, surveillance camera, video projector, speakers
Psychic « sees » the spectators and describes what it sees in sentences that are written on the wall in real time. The text is displayed letter by letter, as if it were typed on an old typewriter. We can hear the characteristic sound of this machine, giving a paradoxical dimension to the device: it is both ancient (a mechanography), and contemporary (an invisible but active « artificial intelligence »). This strange device perceives the world a little differently than us, as it sees poorly but is very sensitive to the internal states and motivations of the spectators.
2013 – 2021
Photos-objects, vidéos

On the worldwide diffusion of the Latin alphabet through a simple communication tool: the touch-tone telephone. Or how Chinese, Korean, Russian, Greek, Algerian, and Moroccan people are forced to Latinise their languages to text. In 2013, Magali Desbazeille gathered the words of mobile phone users in a single installation, similar to family photographs. They describe the mass Latinisation caused by the use of touch-tone telephones in the early 2000s, which diverged from different linguistic universes and their alphabetical or ideogrammatic spellings. What is the state of this Latinisation in 2022? How do some people juggle several languages and several alphabets across the world?
2015
Single-channel video (loop, 8 min. 30)
Unlike the written word, oral speech is strewn with small hesitations, repetitions, and syllabic lengthening, which disrupt the fluidity of speech. These "disfluencies" are used to keep people waiting while the speech is being developed; they reflect emotions, stress, but also the sociological profile of the person speaking. While they seem disruptive, these flaws in the discourse are in fact binding elements in the enunciation's sequence of ideas. They are the hallmarks of orality, and even the best-trained communicators cannot escape them.
To date, automatic transcription software based on artificial intelligence is not yet capable of taking these disfluencies into account, making this human peculiarity a form of resistance to the new all-digital regime that is invading everyday life. The video Euh…! Disfluences was produced and edited from an interview with Olivier Baude, doctor in language science and head of the Observatoire des pratiques linguistiques. It brings the failures of speech to the foreground and makes them perceptible thanks to a subtitling specifically created for this purpose.
Launch of the book Wikifémia
Launch of the book Wikifémia by Roberte la Rousse on 21 April 2022. Sexist biases in language and the transmission of knowledge: the humor of a performance, the seriousness of a historical perspective on the masculinization of French, from Vaugelas to the era of AI and algorithms.
Roundtable discussion with the artists
A roundtable discussion with the artists of the exhibition "Transmission(s)" - Cécile Babiole, Magali Desbazeille, Antoine Schmitt, and with the ENSAD's Director of Research, Emmanuel Mahé. The discussion is led by the curator Natacha Duviquet, on the links between the digital and languages.
Transmission(s) in pictures
10 January – 10 March 2022
The Robert de Sorbon Foundation and Maisons de la Sagesse-Traduire present Mémoires d'objets. The exhibition features the words, in French, of four «story holders» presented in three triptychs.
The object of memory, whether functional or not, material or not, represents a time beyond its physical presence. It is an object in which memory is rooted, one that conveys gestures, words, languages, sounds, flavours, images, spaces – in short, a life story.
In a museo-bank, the life narrative carried by the object updates the past and anchors a future project in a life story. The value of this object-story-business plan triptych acts as a guarantee for a microcredit, to which the project holder is not eligible in the current context. Neither a museum nor a bank, the museo-bank is a space for receiving and sharing objects and stories, and in particular the unique stories of the project holders. By doing so, it questions the traditional mechanisms of conservation and exhibition, thus establishing a new regime of value.
With Ana, Jawid, Yacine and Kama, we invite you on a journey through the intertwining of memories and languages that shape a territory.
Ana presents a white dress, and two passports
that belong to her mother : one is Portuguese,
from the time of colonisation, and the other, Cape
Verdean, was issued just after the Independence.
They accompany her life story, a thread leading
to her project of creating a multi-purpose cleaning
company (construction sites, offices, home
cleaning…) rooted in a territory in full urban
transformation.
Ana left her island of Santiago at the age of 16,
wearing this white dress sent by her mother,
who was already in France. The dress tells of the life`
before, the bright colours of houses, the burning
light on arid soil, the smells and music between
paradise and the struggle to survive. Today it allows
her to build this business project while staying
as close as possible to her life story, which is also part
of the collective history of Cape Verdean migrants
throughout the world.
« When we travel, we have saudade
and morabeza. Saudade is when
you're far away and you feel
homesick. Morabeza is when
you come back, and it's as if you
had never left. »
« Sodade é horas ki nu sta
longi ku nostalgi de nós terra.
Morabesa regresa pa nós terra
sima ki nunca nu sai »
On the way to Fantani,
the taste of Mali
Yacine presents the boubou her mother gave her when they separated, and Kama presents the mortar and pestle without which the flavours of her country's cereals fade away and become commonplace.
These objects, which come from Ségou in Bambara country and from Kayes in Khassonké country, fuel a permanent dialogue between Yacine and Kama. Following in the footsteps of the great singer Fantani Touré's commitment to women's rights, they want to create a meeting place around products and dishes from Mali. They aim to make people discover the diversity of their cuisines and cultures, to go « from plough to plate » with organic products from Mali, to reconnect thirty-year-old exiles with the flavours of their youth, to create a humanitarian and cultural association that cooks, sells, and caters Malian foodstuffs and dishes.
From Ségou to Kayes, bon appétit !
«A tô with okra stew from Ségou :
500g of millet, sorghum, corn,
and cassava flour ; 2L of water, okras,
onions… and a djouka from Kayes :
500g of fonio and 200g of groundnuts
powdered with the pestle, 10 small
grated okras, 1 teaspoon of baking soda
or ½ teaspoon of potash diluted in a glass
of water, 10 large onions, large pieces
of chicken…».
Music and poetry from the world, Asia, and here
It is his first harmonium, «his friend», that was chosen
by Jawid, born in Mazâr-e-Charif in Afghanistan,
as the thread to weave the story of his life until his arrival
in France four years ago. He works in an association
that welcomes migrants, and would like to create,
with a couple of friends, an event agency (to organise
concerts, reading sessions, publishing) that celebrates
the links between music, poetry, and languages
from Afghanistan to Europe, transiting through India,
Iran, Turkmenistan…
Jawid moved from Afghanistan to Iran following the Taliban
upheavals, until he arrived in Pune, India. There, he studied
business while also studying music in a gharana, where
he was introduced to the ghazal genre.
Today, he sings poetry by Ronsard, Éluard,
and Baudelaire in Pashto, Persian, Hindi, and Bengali.
« Et par le pouvoir d'un mot
Je recommence ma vie
Je suis né pour te connaître
Pour te nommer
Liberté »
Paul Éluard, Liberté
هملک کی ییاناوت هب
من زندگی ام را دوباره آغاز میکنم
من برای شناختن تو تولد شده ام
و برای نام بردن تو
آزادی
د یوې کلمې په ځواک سره
زه خپل ژوند بیا پیلوم
زه ستاسو د پیژندلو لپاره زیږیدلی یم
او تاسو نومول
آزادي
এবং একটি শক্তিশালী শব্দের মাধ্যমে
আমি আমার জীবন পুনরায় শুরু করব
আমি জন্মেছি পুনরায় ত_োমাকে জানার জন্য
এবং ত_োমাকে পরিচিত করার জন্য।
স্বাধীনতা
Seminar with students from the Beaux-Arts de Cergy-Paris
Intervention by Carlos Semedo during a seminar organised at the Laboratoires d'Aubervilliers. This seminar was addressed to students of the École supérieure de Beaux-Arts de Cergy-Paris, and to some artists participating in the "Foreign Affairs" project, labelled as part of the France-Portugal cross-cultural season.
Beyond languages, beyond values
Meeting between the students of the Baudelaire programme, the DU Passerelle Sorbonne Paris-Nord, and the project leaders of museo-bank.
Mémoires d'objets in pictures